Welcome
TThe Arab Women Union Society in Jerusalem is considered as one of oldest women societies in Palestine.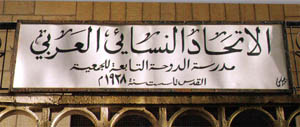 It was established in 1929 by a group of young women headed by Miss Zulaikha Shihabi. Since it early beginning, the society paid all efforts to accimplish the Palestinian national aims of resistance.
It played an essential role through its participation in many national, social activities and popular demonstrations along with assisting rebels, offering medical aid to the wounded, taking care of the martyrs' children and helping families that suffered from various dranatic incidents facing the counry at that time.